Located in San Mateo County, CA, Hillsborough is one of the most conveniently located cities in the area, not to mention one of the most popular places to call home. This fall, 25 Hillsborough homes were listed on the market, with an average sale price of $6.5 million. On average, these luxury homes were on the market for 62 days.




Hillsborough is located just 17 miles south of San Francisco and bordered by San Mateo, Burlingame, and Highlands-Baywood Park. Its central location makes for unbeatable day-tripping options for the entire family. Here are our top must-visits:


San Francisco Botanical Garden
The San Francisco Botanical Garden is one of the city's most unique features, with its impressive collection of plants from around the world. It's incredibly serene and offers hours of exploration and discovery. Take a guided tour, or simply wander around the grounds. The garden also offers educational programs for kids, as well as regular events. Attend one of their Bean Sprouts Family Days, or the Storytime and Family Walk. The gardens are a perfect way to spend a day outdoors.
Coyote Point Recreation Area
This large San Mateo recreation area is one of the best ways to spend a day in the sun. Between picnicking, swimming, windsurfing, bicycling, jogging, fishing, boating, and sailing, there's no shortage of outdoor adventures! Wander along the shore and look at wildlife, or jump into the cool water. Kids can't get enough of the Magic Mountain Playground, which has castles, slides, dinosaur replicas, and lots of space to run and play.
CuriOdyssey Science Playground & Zoo
If you and your family love animals, then be sure to visit the CuriOdyssey Science Playground & Zoo, as well. You can interact with a range of live animals, from bobcats, to owls, to toads, via self-guided visits. There is also a range of events worth investigating, like the Movie Nights, Pumpkin Celebration Harvest Days, and the opening of outdoor exhibits. Reserve tickets and get excited for a full day at Coyote Point!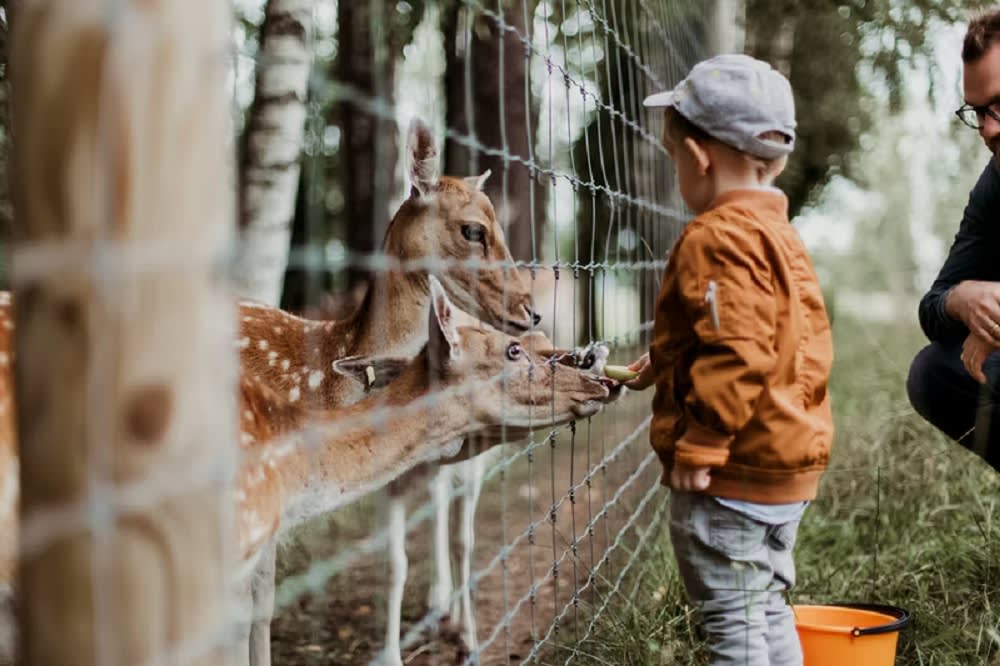 Lemos Farm
Located in the beautiful Half Moon Bay, Lemos Farm is a kid's dream! It's part amusement park, part petting zoo, and there's something for kids of all ages. Kids up to 70 pounds can ride any one of the farm's adorable ponies, which are super cute and gentle. You could also hop aboard the cowboy train, and get a taste of western life. Later, pet the goats, sheep, pigs, and rabbits, and let the kids feed them some pellets — they're sure to make a new friend! Other activities include hayrides, slides, and the year-round spooky haunted house!

One of the farm's most unique offerings? Goat yoga! Anyone from age five onward can spend time stretching with the goats. What's better than feel-good exercise with feel-good animals? Stop by the petting zoo after to visit more animals.
Central Park
San Mateo's Central Park is another green escape that's perfect for the whole family. Across 16.5 acres, you'll find places to picnic, baseball fields, tennis courts, and a large playground. There's also a Japanese garden, which is one of the best California has to offer. Watch the fish swim in the koi pond, and be sure to catch the cherry blossoms between winter and spring. Kids especially love the park's mini-train, which tours them around the grounds and is an interactive way to enjoy all there is to see.
Muir Woods
You've seen those photos of people standing inside giant trees. Wondering how you can get one? Head to Muir Woods! This famous National Park is a California treasure and is just under an hour from Hillsborough. Entrance for kids under 15 is free, and the park is open 365 days/year. The park is gigantic, and there's so much to do — make sure to do some thorough planning beforehand! In addition to the enormous Redwood trees, you might also want to see Stinson Beach, Point Bonita Lighthouse, Muir Beach, and several of the area's forts. The area's beaches boast some of the most beautiful coastal views around, while the forts tend to have hiking, touring, and water activity access.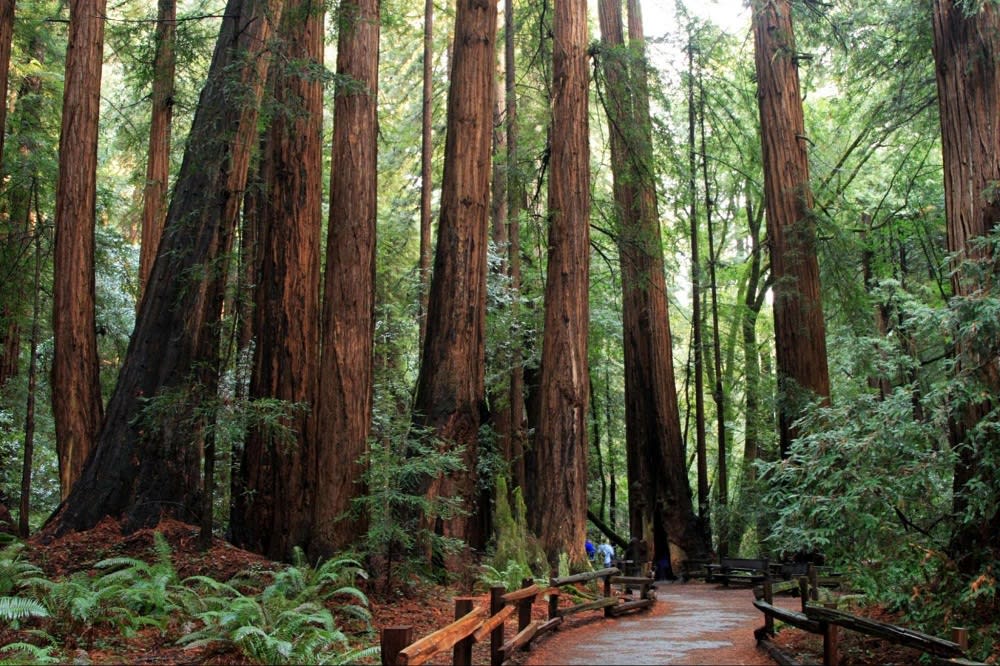 Credit: SFGATE
Monterey Aquarium
Although a bit further than the other options (but still under two hours), the Monterey Aquarium is an unparalleled experience for families. Monterey itself is a beautiful coastal town, and the drive includes beautiful vistas. At the aquarium, you'll get to see some of the most majestic sea creatures nature has to offer — adorable penguins, toothy sharks, friendly sea otters, and more. Learn about the animals' natural habitats, as well as the unique stories between each of the aquarium's residents. The aquarium can get very crowded during the summer months, so plan accordingly!
Santa Cruz Beach Boardwalk
Just over an hour from Hillsborough, the Santa Cruz Beach Boardwalk is a visually exciting destination full of amusement park rides, games, and excitement. Older kids enjoy spinning and flying on the rides, while younger ones benefit from things like mini-golf, magic trick displays, and other fun games! The boardwalk also hosts a weekend farmers' market, with fresh foods and handmade crafts. Support local artisans while you enjoy a day of cotton candy and fun!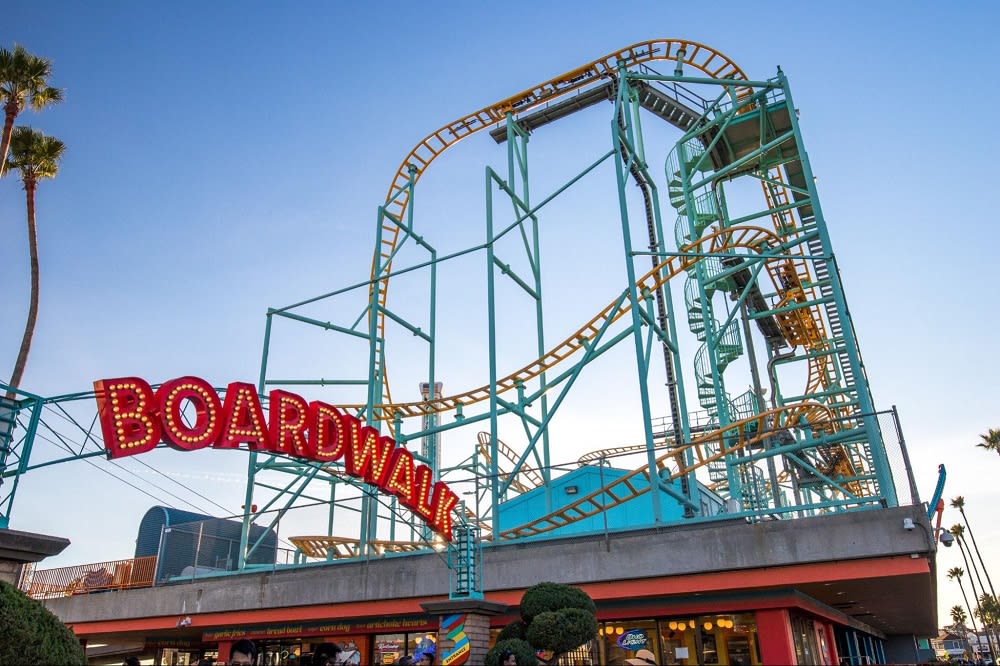 Gilroy Gardens
Another scream-inducing park? Gilroy Gardens, "where fun grows on trees." There are rides for people of all ages — float in a giant balloon, ride the Timber Twister roller coaster, or brave the twisty waterslides at the water park. Gilroy Gardens is unique because it's situated in...beautiful gardens! Uniquely shaped "circus trees" line the property, which has six impressive gardens. Take a break from the excitement and wander through them. The fall is an especially good time to visit Gilroy Gardens, thanks to the park's impressive Halloween features. Shows, a "Boo train," and trick-or-treating, oh my!

Interested in Hillsborough real estate and learning more about what the area has to offer? Contact Michael Maze today.