Homes in Palo Alto are known for their fascinating and beautiful architectural styles, offering a wide variety from one residential area to the next. From sleek and modern contemporary homes to palatial Mediterranean mansions that reflect the Palo Alto climate, this area of Northern California is home to some truly stunning architecture.

With so many incredible options for architectural design, how do you identify one type from another? Read on to learn more about some of Palo Alto's most popular architectural styles.
1. Mid-Century Modern / Eichlers
As housing demands surged and residential developments popped up in the Palo Alto area throughout the late 1940s, 50s and 60s, the mid-century modern style quickly became one of the most prevalent architectural styles of the area.

Mid-century modern homes are known for a variety of sleek, contemporary features that include:
◾ Clean lines. You'll find lots of straight lines and abrupt right angles in mid-century homes, often with sharply sloping roofs and asymmetrical facades. Roofs tend to be low and flat.
◾ Floor-to-ceiling windows. Tall, wide windows are extremely popular in mid-century modern homes. These homes were built to be easily integrated with nature, so floor-to-ceiling windows were installed to offer stunning views of the yard and landscaping. These homes feature multiple access points to the outdoors, including dramatic sliding glass doors that lead to spacious porches, decks, and patios.
◾ Changes in elevation. A common characteristic of the mid-century modern style is the split-level layout, where short staircases lead up and down from one room to the next instead of a main grand staircase. Architects during this era added depth by installing partial brick or glass walls and fireplaces in centralized locations.
◾ Minimal decor. In general, simplicity is a key aspect of mid-century modern architectural design. Most of these homes feature muted color palettes and simple furnishings to complete the look.
A unique take on the mid-century modern design was put forth by real estate developer Joseph Eichler. Eichler was responsible for developing some incredibly distinct residential areas in California. He was one of the first architects to use modern architecture to the general public, rather than restricting the style to custom-built homes and major corporate buildings.

Today, many Eichler homes can still be seen in areas throughout the greater San Francisco Bay Area and Los Angeles, but Palo Alto retains an extremely high concentration of these incredible modern homes. The city actually has more Eichler homes than any other Californian city! Many of these homes are concentrated in South Palo Alto, and there's also the Eichler Swim and Tennis Club located in the same area. Stroll along Palo Alto streets like Briarwood Way, Creekside Drive, Charleston Road, and El Cajon Way, among many others, to see some incredible examples of Eichler homes.
2. Contemporary
While somewhat similar to the mid-century modern style, the contemporary architectural style is more wide-reaching, encompassing a range of present-day architectural trends. Many office spaces and commercial buildings have been constructed in the contemporary style, but it's also quite common for the style to be used in residential areas as well. The contemporary architectural era is considered to have begun somewhere in the late 20th century, after the rise in popularity of mid-century modern homes.

Contemporary architecture is influenced by two major factors: technological advances and a focus on sustainability. Today, architects can use state-of-the-art laser-cutting technology and 3D printing to create some incredible designs that might have been too challenging in previous eras. Computer renderings are also incredibly helpful, allowing architectural designs to come to life before the first bricks have been laid. There is also much more of a focus nowadays on constructing a home in the most environmentally friendly way possible, using recycled and natural materials during the building process. Architects also integrate sustainable features like eco-conscious water and temperature control building systems to create some fantastic green homes.

While contemporary architecture can be quite broad, here are some features that are common in the style:
Curved lines and rounded forms
Free-form shapes and asymmetry
Integration into the surrounding landscape
Open floor plans
Large and abundant windows
Smart home technology
Customized LED lighting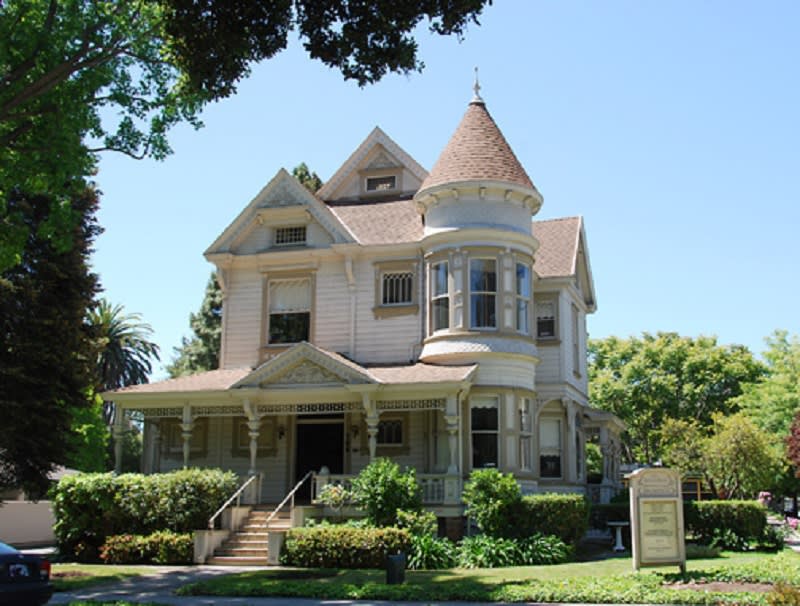 Credit: PastHeritage.org
3. Queen Anne
This elegant and classic style is popular in many cities that experienced rapid growth at the turn of the century, and Palo Alto is no exception! Many gorgeous examples of Queen Anne architecture were constructed in the city between 1880 and 1905.

Often associated with the Victorian architectural style, Queen Anne architecture was first introduced in the 1860s by English architect Richard Norman Shaw, playing off popular styles of the past but making them a bit more casual and low-key. In the early 1900s, the Queen Anne style made its way across the pond to the United States, becoming popular in New England before heading west to communities like Palo Alto. Queen Anne homes are typically modeled after gorgeous classic English Tudor estates that belonged to the United Kingdom's wealthiest residents, and this aesthetic is reflected in many elements of Queen Anne design.

Some of the hallmarks of the beautiful and classy Queen Anne architectural design include:
Steeply pitched and complex slate roofs
Patterned shingles
Brightly colored siding with contrasting trim, often in pastel colors
Large chimneys made of stone or brick
Romantic and dramatic turrets and gables
Second story balconies
Spacious wraparound porches, perfect for relaxing and entertaining
Wide bay windows
Stained glass windows
Spindle railings and exquisite ornamental trim detailing
Catch a glimpse of the Queen Anne style at some of Palo Alto's most iconic homes! Located at 706 Cowper Street, the Downing House is one of the city's most popular examples of Queen Anne architecture. The historic home was constructed in 1894 by W. Matlock Campbell and is today listed on the National Register of Historic Places. Visitors love to take in the sight of the home's two-story witch's hat tower, decorative trim and shingles, and wide, beautiful gables that span three stories. The Downing House offers a romantic feel that would make it look at home in a fairytale storybook.


4. Mediterranean
Mediterranean-style homes tend to be quite common in areas with warm climates, like Palo Alto. The architectural design draws inspiration from the cultures and styles of countries surrounding the Mediterranean Sea, including Spain, Portugal, Greece, Morocco, and France. The style originally made its way to the United States at the turn of the 20th century and was popular in the design of commercial buildings like hotels, resorts along the ocean, and public community buildings. Around the 1920s, the style skyrocketed in popularity, bringing the iconic terracotta and stucco look to some of the warmest places in the United States, including California, Florida, and Texas.

The Mediterranean style includes three subcategories that are equally popular throughout the country, including within Palo Alto. These stunning and dramatic types of architecture are referred to as Modern Mediterranean, Spanish Revival, and Italian Renaissance. Some may also include the Mission Revival and Spanish Colonial styles under the Mediterranean umbrella.

Quintessential features of the Mediterranean architectural style include:
Red and brown terracotta tile roofs
White stucco exteriors
Wide archways
Outdoor living spaces like balconies, patios, courtyards, and terraces
5. Bay Area Traditional
A design philosophy that is unique to the cities within the Bay Area, the Traditional style incorporates current fashions and trends with those of the past. The style has also been referred to as "First Bay Tradition" or "First Bay Area Tradition" over the years.

In this architectural style, homes tend to have a playful and fun feel that truly sets them apart from other architectural styles. The Bay Area Traditional style was first introduced around 1890 by noted architects like Bernard Maybeck, Willis Polk, John Hudson Thomas, and Ernest Coxhead. In the 1920s, the style experienced a resurgence thanks to the work of architects like William Wilson Wurster and Gardner Dailey. The style is considered to be a regional interpretation of the Shingle style, popular on the East Coast; it also was likely influenced by the classic details of Beaux-Arts architecture.

Bay Area Traditional homes bring a quintessentially Californian twist to their design, incorporating locally sourced materials like redwood in an effort to connect the home to the surrounding natural world. Architects in this style focused on craftsmanship, form, volume, and asymmetry and went on to influence the Second Bay Tradition style. Today, the University of California at Berkeley's Environmental Design Archives is home to a wide variety of drawings and resources dealing with the Bay Area Traditional style.

Searching for a gorgeous Palo Alto luxury home to call your own? Contact experienced and knowledgeable Palo Alto real estate agent Michael Maze today! With years of experience in the real estate world, Michael will be happy to help you navigate the Palo Alto real estate market.