Located in San Francisco's Bay Area, Palo Alto is one of Silicon Valley's primary cities and home to the prestigious Stanford University. While it's a bustling city full of upscale dining and entertainment options, it's also well-situated for various getaways.
From close-to-home road trips to longer voyages, here are some of the best places to vacation from Palo Alto.
San Francisco
We'd be remiss not to begin with the big city itself! If you're looking for a staycation, San Francisco is the place for you. A mere 49-minute drive away, this bustling metropolis has something for everyone. There are plenty of mid-range to high-end hotels to choose from, including the Hyatt at Fisherman's Wharf and the luxurious Ritz-Carlton. There are also thousands of rental properties worth exploring.
When it comes to dining and entertainment, you can pack your schedule with as much or as little as you want. Walk or bike along the 1.7-mile
Golden Gate Bridge
; there will be plenty of photo ops! Head to
Fisherman's Wharf
to see the adorable sea lions or to
Dolores Park
for a relaxing picnic. If you're in the mood for something truly relaxing, there are a number of luxurious spas worth checking out.
Senspa
offers a range of unique treatments, like detox facials and belly massages. There's also Huntington Hill's
Nob Hill Spa
, where you can lose yourself in a relaxing body scrub.
If your stomach starts to growl, never fear! You're in the right place. Treat yourself to a Michelin-starred meal at
Rich Table
(the name says everything!).
Fog Harbor Fish House
is a Pier 39 seafood institution, while
La Ciccia
is the spot for a quaint, authentic Italian feast. If you need a sweet treat, head to the
Ghirardelli Chocolate Marketplace
. This cocoa haven sells chocolate as well as decadent ice cream sundaes. They're the best way to cap off a day of vacation!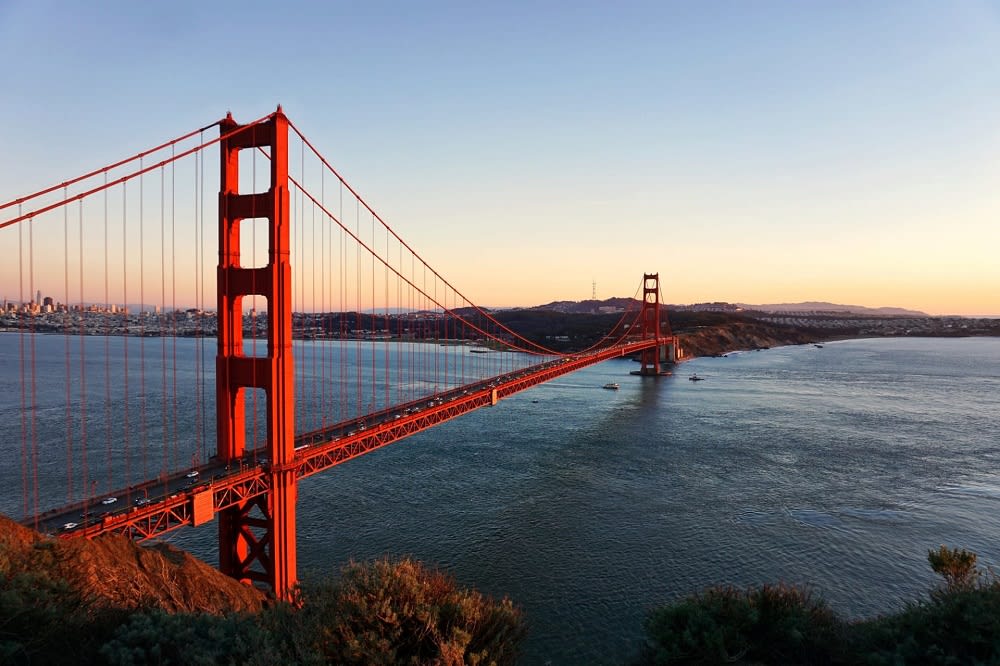 Half Moon Bay
Half Moon Bay is a small coastal community just south of San Francisco, and it's only a 50-minute drive from Palo Alto. It's part of a string of gorgeous beaches that line this coastal section of California, including Half Moon State Beach. Its stunning views and vast natural parks make it a highly desirable vacation destination, especially if you're looking for equal parts relaxation and adventure.
Head to one of the many beaches for a day of sunbathing and swimming; Pomponio State Beach, Venice Beach in Half Moon Bay, and Pelican Point Beach are all lovely options. You may opt to begin your day with a walk along the 3.5 miles of
Half Moon Bay Trail
, which follows the coast and offer beautiful vistas. Make sure to take a tour of the cliffside
Pigeon Point Lighthouse
and try to spot some seals and whales! You could also play a round of golf at the Half Moon Bay
Golf Links
to enjoy the coastal views.
The town itself is a laid-back suburb full of
local artisans
. Just by wandering, you'll find several painting and glass galleries open to the public. More of a music person? Half Moon Bay is also known for its coastal music events. Check out their
calendar
to see what's happening during your trip.
Of course, one of the most significant benefits of visiting Half Moon Bay is the delicious fresh seafood.
Sam's Chowder House
is a local institution known for its chowder and lobster rolls. Have more of a sweet tooth?
Half Moon Bay Bakery
is 110 years old and famous for its specialty loaves of bread, doughnuts, danishes, and pumpkin bread. This area has everything for a relaxing vacation.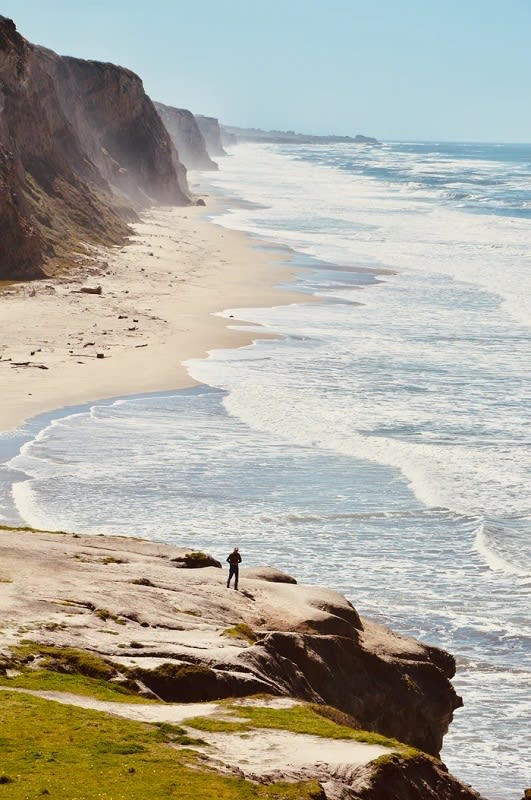 Big Sur
Traveling to Big Sur is one of the best ways to see some of California's most famous destinations. This rugged stretch of central coast is a manageable two-hour drive from Palo Alto — a drive full of natural beauty! Here are some of the area's best sites.
Monterey
Head south from Palo Alto until you hit Monterey (the setting of HBO's series
Big Little Lies
). The impressive Bixby Creek Bridge unites the cliffside over crashing waves and a sloping coastline. It's a photo-op must. Monterey also has the massive
Monterey Bay Aquarium
. Prepare to see hundreds of stingrays, sharks, jellyfish, and more.
For more maritime fun, wander around
The Old Fisherman's Wharf
. This former fish market is now a spot for dining and shopping. Stop by one of the many souvenir shops for your fill of Monterey gifts. Be sure to get your share of fresh seafood at restaurants like
Big Fish Grill
and
Crabby Jim's
(
the
spot for clam chowder). The wharf is also your home base for whale watching and other ocean activities.
Monterey Bay Whale Watch
offers year-round whale watching excursions led by professional marine biologists!
Carmel-by-the-Sea
Carmel-by-the-Sea
is another must-visit area. This quaint but upscale seaside town is full of luxury hotels and charming vacation rentals — a beautiful place to set up camp and still be able to access everything in the nearby Big Sur areas.
An ideal day in Carmel probably involves shopping, fine dining, and, of course, some beach time. Walk along Ocean Avenue and visit the many boutiques, all of which are locally owned and operated. Be sure to explore some of the 100 galleries Carmel has to offer, like
Sunset Center's Marjorie Evans Gallery
and the
Carmel Art Association
. The best part? Carmel Beach is just a short walk from all of these sites! Lounge on the soft white sand and enjoy the crisp water.
When it comes time to eat, head back into town to one of the many dining options. Enjoy classic European cuisine at effortlessly chic
La Bicyclette
. There's also
Seventh & Dolores Restaurant
(known by locals as "7D"). This Carmel institution serves indulgent steakhouse fare exclusively sourced from Niman Ranch. A trip to Carmel is the perfect way to combine luxury and coastal beauty.
Both Monterey and Carmel will put you close to some of the area's best hiking and wine tasting (two very different activities that both make for fantastic vacations).
Point Lobos State Natural Reserve
offers miles of hiking and walking along an exquisite coastline. Keep your eyes peeled for whales, sea lions, and seals! There are also a few beaches along the way, which are ideal for resting and picnicking.
When you're ready to taste some of California's best wines, head to one of the many coastal vineyards.
Folktale Winery
, with its whimsical atmosphere, offers delicious wine tastings and pairings and occasional live music. A short drive away is De Tierra Vineyards, a family-owned and operated vineyard offering tasting flights (and plenty of resident dogs). Explore the many wineries and all the natural beauty this area has to offer.
Interested in Palo Alto real estate? Contact
Michael Maze
for the area's top listings.